Over took an R1 on the track!!! :D
hehe OK OK, the R1 was doin a warmup lap alright. :))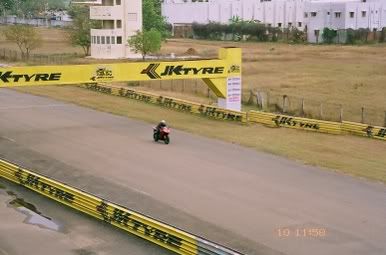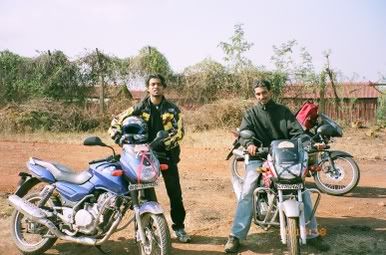 Track day at Sriparambadur race track at chennai it was. started at around 4.30 am and went through old madras road with the possiblities of rain. most of the time tailing renu with his ultra bright light. day broke and our speed increased. but the best section in bangy chennai road with some curves was lost as it was wet. but not for renu, the bugger took one leaning turn at 80+ scary. damn the track may be wet too. but it was dry alright. again touched 122 on the speedo on a fairly straight road. before reaching the track at 12 to be welcomed by shrey.
with lot of expectations bout the road on the track, paid 300 bux for a session of 30 mins. n lots of stuff hadda be removed. rear view mirrors, crash guard, kicker. taped all the plastic parts. was wearing the knee and elbow pads that i has bought a few months back, without which they wouldnt allow on the track. poor renu couldnt cos of that.
now, of some 12 bikes goin round and round only 3 were desi ones, ma cbz,a pulsar and an modded 135. but the rest were SBKs. and yes were all goin around on the same track. it was awsome riding along with the SBKs. or rather seeing them go past ya again and again . n ofcource an R1 gye was doin a warm lap slowly and i over took him on a curve , of cource the same gye went past me couple of times before the end of the session. at one instance when i was about to touch 100 i feel a jolt and kinda handle bars slipped out of my hands, hehe it was a boom of a white BR 1000 RR zipping past me prolly doin 150 +. was bit shaken too hehe.
every curve was expectin a roar and kinda nerves not to come in the way of those biggies. but was awsome lookin at the SBKs goin in front leaning the same curve. bout the track was bit dissappointed cos was not gettin confidence to lean freely. guess may be i was expecting too much comparing to the ghats i have seen during munnar and goa trips. n the damn puncture wala cheated me by putting 40 psi onto the rear wheel thought i told him to put 28. Grrrrr. also felt the curves on the track are a bit hard cos they got no banking we are used to in the ghats. but couldnt the full profile of ma tyres this time 2 mm left on either side
well i rationalised too much and din goin for another session. wat dumb could have atleast gone for the sake of riding with the SBKs. , renu had to be home the same nite and in the spur of the moment i decided to turn back with him the same day to bangy. saw this bmw and R1 rip past us on the way back. this time heard the new madras road, throught k'giri was almost dun up and its 4 lane all the way. 9 and we at k'giri, and 90 kms more to cover.
saw heavy lightning up ahead. ok we have some heavy rains in store. but we thought big deal we have riden in rains before. but holy moly it was like a storm, literally buckets opened up from above and the heavy wind too, pushing our bikes was hard to controll our bikes even goin at 30-40s. n all this in dark and no cover ne where around and could do noting but carry on. had heard before the highway gets water logged and cut off in heavy rains. so din wanna wait for the rains to die and get stranded. hit some 1 feet deep water and realised only when in, out of it. and only to hit one more with atleast 2 feet deep water. damn hell, rapidly donw shifted to 1 gear and reved till we crossed it for some 50-60 feet. phew that was one experiance gaaaaa.
was all over in 20 mins, we crossed the rain. had lost one of my routs horn at the track cos the gye broke the clamp while removing ma crash guard and it was in ma bag and water had gone in the other one so no horns. reached home by 11 to a warm bed.
wow that was too much experiance for one day. did some 667 kms in 22 liters of fuel.
pros: over took an R1 :D, rode with SBKs.:)
cons: renu's p150v2 beat ma cbz on topend. :(
This is what renu had to say about it ---->>>>
It was a track day in MMSC that was held on the 11th and 12th of March 2006. Even though I knew the dates much before, I was not sure whether to go or not due to many restrictions with my parents. Started pleading for permission a week back for which I got an approval on friday. Now, it is a question whether to go alone or with my XBHP mates. Received a positive response from Shreyansh and Praveen KM. So, the plan was fixed to leave at 4:30AM on the 11th of March. Unfortunately Shreyansh's bike broke for which he had to come by car. So, the two confirmed now were Praveen KM and myself
As decided, we met at 4:30AM near Kadamba. Headed towards the nearest petrol bunk and filled the bellies of our bikes. So, the much awaited journey got a green signal from there.
Calm morning freshness mixed with morning dew and due to last night rains with pitch darkness restricted our speeds to 90kmph till we first stopped at Palamner check post for a cup of coffee and to wipe the insects off the visors.
Bad luck welcomed us saying the hotel has just started and we have to wait for some time. Not spending much time, we thought of having breakfast in the next hotel, we continued with our ride but Shreyansh and others who had left for the same event met us.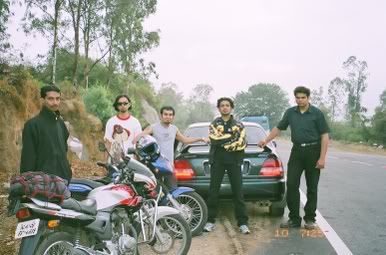 Spent few mins with them but we did not want to waste more time as the super smooth roads wanted us to burn them. So, we din't stop until we got a Reliance petrol bunk with restraunt. Praveen filled his belly as well as his bikes and I had fill only mine as my bike was drinking less litres of fuel compared to Praveen's bike.
Unknowingly we spent 45mins here until we realised that it is getting late for the track. Again we started but this time Praveen was in need of speed where he continued with 100 plus kmph where I stuck to 90kmph.
As I was riding slowly compared to Praveen, I stopped near this Sunflower farm to get this neat photo of my great bike.
From here, I started increasing the speed until we both met near this bridge in Ranipet.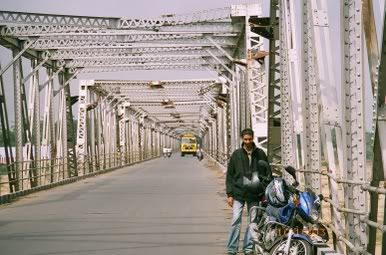 We now made a mind to do non stop to Chennai but due to some problems with air pressure, Praveen had to stop his bike near the toll gate after which we started speeding ie a min of 115kmph and we reached our destination, MMSC.
We got our bikes ready but I was not allowed to ride on track due to some safty issues. Praveen rode on track and he got that piece of enjoyment where I was satisfied watching him ride. He used full profile of his tyre.
Here are few pictures:
Praveen spent some time on the track but as I wanted to meet Tectrac in Chennai, I headed towards Anna nagar. Posed many problems as a person misguided me with the address and due to traffic jam and lack of time, I came back to MMSC. We had brunch in a hotel nearby and headed towards Bangalore.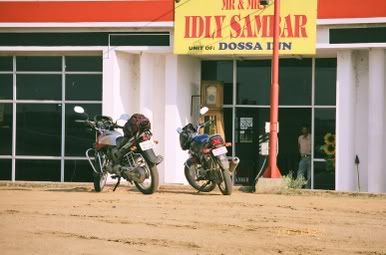 As we were getting late, we explored the full capabilities of our bikes. But, at the same time we were stopping for break.
Yes, they have come a long way but again, they are heading the roads showing their willingnes to burn more of the roads.
My bike saw a super duper sunset. Hope this will be the month's best wallpaper
We rode without break until it started raining heavily where we had to drink coffee. I don't know how but I was totally charged and we started burning the wet roads after drinking two cups of coffee.
Our last stop was in Krishnagiri.
But, real riding started from here as we faced a heavy downpour mixed with winds blowing in opposite direction. We had to use first gear at many places. I have ridden in heavy rains but this is the first ever time I experienced the worst conditions. Praveen was very experienced and he did not face much of problems riding in the rain. However, we reached Bangalore where I blew a flying kiss in the entrance.
The overall experience was very good but we did face some problems were the pedestrians, cyclists and lorry drivers did not have any sense of roads. For a rider, this is common as the main intension is the pleasure of riding.